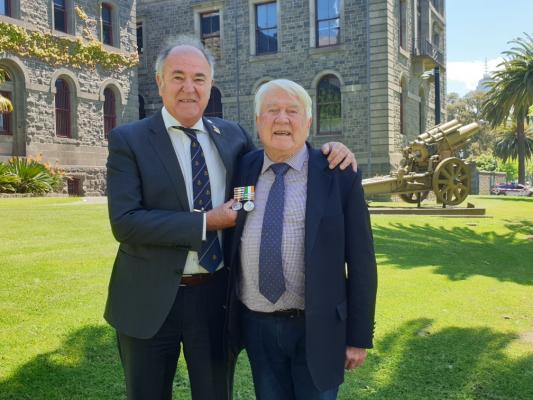 By Mikayla van Loon
Many members of the Mount Evelyn community would be familiar with the Breaker Morant story.
It is a part of Australian history that has been controversial for 120 years but one Yarra Ranges military lawyer has spent a decade trying to clear the name of this well known figure.
Although his work is not done yet, James Unkles has just helped the descendants of Lieutenants Harry 'Breaker' Morant, Peter Handcock and George Witton receive long awaited service medals for their distant relatives.
"What the medals recognise is that these men served different colonial units in the Boer War and did so appropriately. Their service was unblemished and they never got their medals," he said.
"After 120 years, I've been able to secure those medals for the families, so each family gets a set.
"It's a separate issue to the one of the injustice but it's a recognition that they served Australia's interests."
Accused of killing Boer prisoners, Morant and Handcock were executed but Witton was sentenced to life imprisonment and was later released after protests and petitions.
"The orders they carried out to shoot Boer prisoners, they believed, were lawful. The orders were given to them by their British masters, the military officers who gave those orders, they believed they were following orders," Mr Unkles said.
"They were the only ones singled out for prosecution, I believe for political purposes at the time. There were British soldiers doing the same thing and they weren't tried or executed."
The lawyer who originally defended these men, Major James Thomas, spent his life trying to achieve an independent inquiry into the illegally tried case.
Mr Unkles said after doing his own research, he felt he had to continue the work of Major Thomas.
Having gained the support of ministers, human rights lawyers and attorney generals, Mr Unkles has taken significant steps to get these men acquitted of their supposed crimes.
One of those wins was an apology issued by the House of Representatives in 2018 and these medals are another step in the right direction for getting an inquiry.
"The families are overjoyed [with the medals]. They have endured a lot of shame and guilt about how these men were treated. The families have really come together through the work I've done. They talk, they've shared stories.
"What they want is a just outcome. They don't trust the denials that have flowed from different Australian Governments and also the British government. They don't believe any of that, they want it independently assessed."
Lobbying for an independent inquiry is underway and Mr Unkles said he hopes to lock in a former judge to oversee the process in early 2022.
"I'll continue representing the descendants on this matter. I can't finish. I can't let it go. I've got to complete it. It's taken the best part of 10 years to get to this point," Mr Unkles said.
"As a professional and as a military lawyer this is bread and butter to me."
Community support tends to favour Breaker Morant being innocent and sees him as a scapegoat but Mr Unkles said the more support he receives from high profile people, the more the "government's dig their heels in and that's where I get the resistance."
"I still get push back but the more criticism I get, the more I know I've got a case."
While it never started out this way, Mr Unkles said there are lessons to be learned from the Breaker Morant case, which can be applied to the current situation with Afghanistan's soldiers.
"The process of charging people with war crimes must be squeaky clean and according to law," he said.
"This is reminding us all of how proving beyond reasonable doubt must be exemplary."