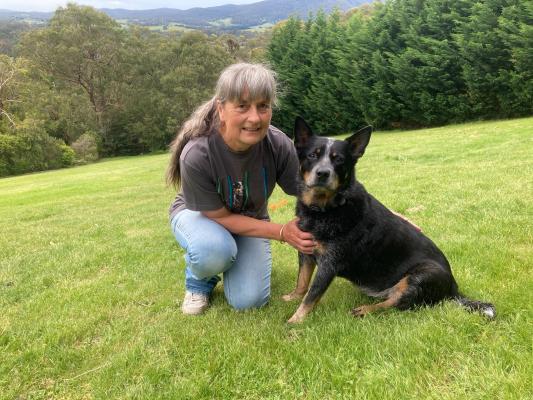 By Mikayla van Loon
When Belinda's competition trained blue heeler dog, Shackleton, started to limp and was unable to move properly, she knew something wasn't right.
The use of medicinal cannabis in humans has been approved since 2015 but the ability to treat similar medical conditions in animals has only been allowed for the past two years.
Taking Shackleton to his vet in Lilydale, Belinda quickly found out it was cancer of the blood causing her furry companion a great amount of pain.
"He has too many red blood cells in his body and the cancer is either leukemia, which is the bone marrow producing too many red blood cells or it's cancer of the kidneys, liver type area that's releasing too many blood cells which therefore makes his blood quite thick," Belinda said.
"It was suggested that if it was leukemia, then as the disease progressed, he would become very sore and the bones would ache and all that sort of stuff. I didn't want to put him through a barrage of tests to find out which cancer it was. Basically it's cancer. It's growing. That's it."
Having tried a standard pain medication without success, Belinda asked about the use of cannabidiol or CBD oil, a type of cannabinoid found in cannabis plants.
Shackleton's veterinarian at Lilydale Vet Centre wasn't able to prescribe CBD oil initially but after doing the training, became an eligible vet as Shackleton's condition was deteriorating.
With a diagnosis of living just two to three weeks, Belinda was desperate to try anything, not necessarily to extend Shackleton's life but to improve the quality of his life.
"So we only got a small bottle of CBD oil. Well, it changed his life. It was almost like black and white. He went back to running again. He just became the way he was, quite an athletic dog, basically pain free. That was, I think we're up to about five months ago."
CBD Vets Australia director Dr Chris Lee said all living things have a hormonal system known as an endocannabinoid system (ECS) that works in the nervous system and immune system.
Medicinal cannabis helps regulate these systems, meaning the list of treatable conditions with CBD oil stem from pain relief to epilepsy, anxiety to arthritis and even skin diseases.
"It's also anti cancer as in Shackleton's case. It's really quite interesting because the CBD oil can actually kill the tumor cells themselves by encouraging the tumor cells to die," he said.
"All cells grow and die at a set rate and they communicate with each other when those processes are happening and the CBD oil has been shown to increase the rate of cell death of tumor cells."
Accessibility is getting better as pet owners and vets turn to natural remedies but sometimes the cost can be outside some people's budget, particularly in larger sized animals.
Belinda said in her case she was lucky enough to be able to afford the CBD oil and she's extremely grateful to have seen the benefit of the medicinal cannabis, not having many expectations.
"I suppose my hope was that it would do something but I just wanted him to be happy. I never expected it to extend his life the way it has, the length that it has. I didn't think he'd ever be running around the way he does," she said.
Like all medical treatments, CBD oil is not without some minor side effects but it does not have the same toxic elements that can hinder organs, as other treatments do.
CBD Vets Australia do over the phone consultations and are the major supplier and dispenser of CBD oil.