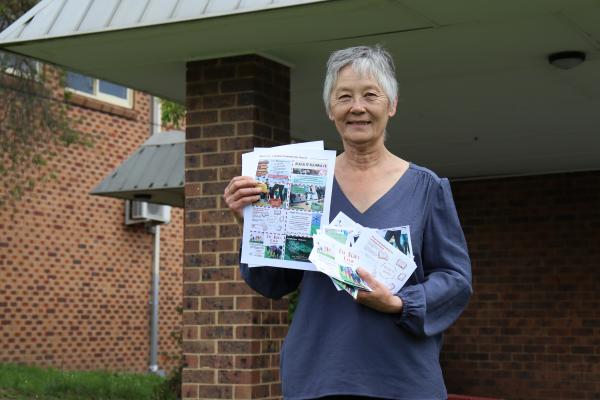 By Mikayla van Loon
Mount Evelyn residents are invited to join in activities, group classes and workshops now that the Lilydale Community House has finally been able to open its doors to the public.
Holding the first morning tea on Monday 22 November, house coordinator Suyin Chan said nine people turned up to say hello and three stayed to do some of their own craft afterwards.
Since August, Ms Chan has been running online sessions but she said it was lovely to be able to invite people to the in person programs at last.
Although at the moment there are just a few programs set up, including the beginners hip hop class on Fridays, Ms Chan said she is building up connections with organisations and is getting a sense of what people would like to take part in.
"There was a real need to have a community house so I'm hoping that we can make it work for everybody and get everyone excited and want to be involved in something.
"So I'm trying to spread a broad variety of activities that caters for a whole bunch of different cohorts."
So far Ms Chan has just finalised setting up a weekly men's exercise session in partnership with the RSL.
"That'll be a free session every week for men to come and be a bit more active and be out in the world and actually have to walk or do the exercise and talk to other men," she said.
A two week school holiday program for next year is also on the cards, which will allow children to explore their feelings in a fun and creative way.
Ms Chan said language and craft classes have been a popular request from the community but she is open to ideas and is interested to hear from people whether they want to facilitate a program or want to be involved in something in particular.
"Drop in, come and say hello and find out what we've got on or even tell us what you want to see, that's important to know. What is it that's missing that you can't find anywhere else? What would you like us to try and organise?"
Ms Chan's vision for the community house is to be as affordable and accessible as possible and a safe place for all ages, demographics and cultures.
"I just really want to get the message out that we're welcoming of everybody and we want everyone to feel like they can turn up and come to whatever it is, or even if it's not for that but they just want to come in for a cuppa and a chat, we're here for them."
Part of the plan is to reach out to culturally diverse groups to see if they want to use the space or run a program, as well as a LGBTQIA+ carers group.
The community house will also have escape bags for anyone leaving a violent household who might be in need of some essential items.
By January Ms Chan hopes to have a weekly program put together but for now she is still meeting with locals and other organisations to see how everyone can work together to achieve an excellent outcome for the community.
"I'm really excited that we've got somewhere to start and I'm just making connections with the businesses and with the local community groups and just trying to establish a few relationships," she said.
"There's all these other groups using the building, so we have to work in between them. So we've spoken to the Bowls Club next door, 'can we borrow your meeting room' and they said 'yes, sure'.
"The RSL, they'd love us to come and run stuff there. So I'm just making all these partnerships so that we're all in it together."
To book into an upcoming class or workshop go to www.lilydalech.org.au, call 0493 150 176 or email lilydalecommunityhouse@chaosnetwork.org.au.
The community house is also on the lookout for some volunteers to help facilitate the programs.
The Lilydale Community House is located inside the Lilydale Senior Citizens Hall at 7 Hardy Street. It is open on Mondays, Wednesdays, Thursdays from 9am to 4pm and from 9am until 12pm on Fridays.