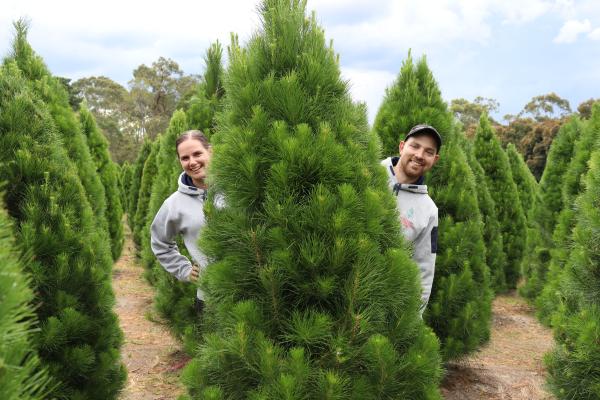 By Mikayla van Loon
It's getting close to Christmas when it's nearly time to pick that perfect tree to decorate.
For the Mazzella family from Montrose Christmas Tree Farm, the year round work comes down to this moment.
On Friday 26 November, Anthony, Carlo and Steph will open the gates to the expected long line of cars waiting to choose the tree they want to take home.
Each year, Carlo said they would sell up to 1200 trees, a number that has grown year on year.
"Not every tree sells because sometimes there are some that are not very saleable. So we probably sell around 1000 to 1200," he said.
Last year those trees sold out before December and Anthony is expecting the same thing to happen this year.
"I think as well last year with Covid everyone was at home so they thought let's try a real Christmas tree, so hopefully it's the same this year," he said.
The team at the Christmas tree farm have had their work cut out for them though after the months of heavy winds and storms pushed some trees to 45 degree angles.
"We ended up having to straighten them up and compact the soil around them again. So it did create havoc and it did make life very tough for us. It created a lot more work than we would have in a normal year," Carlo said.
But through all of that a new crop was still able to be planted and will be ready in four years time.
Carlo said everyone has a different idea of what makes the perfect tree but for him it is the shape, colour and smell.
"We grow Pinus Radiata which has a beautiful smell about it and people always comment on when they take it into their house just how lovely it smells."
While an exciting time of year for the family, Steph said it can be a little bit nerve wracking and stressful but it is all worth it.
"It's a bit stressful because you spend all that time getting everything ready and prepared for such a short time but it's definitely good to open up and then see everyone's happy faces when they come through because it's one of the happiest times of the year," she said.
Never wanting to disappoint anyone, Carlo said it can be hard to see families miss out once all the trees are gone.
"It is a big responsibility actually, because people look forward to this for a long time and they want to come and get what they would feel is the perfect tree and it's our responsibility to produce what they are going to consider to be the perfect tree.
"So we take that very seriously. We hate to see people disappointed and unfortunately every year because we do sell out, some people will be disappointed because they're going to miss out."