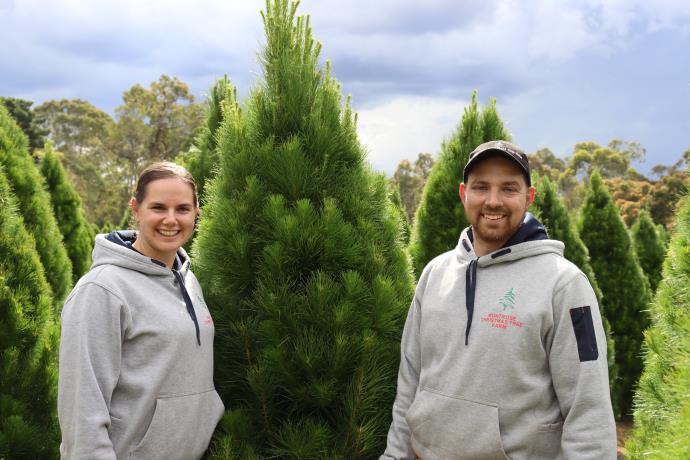 By Mikayla van Loon
Getting into the Christmas tree farming industry might seem like quite an unusual business venture but for Carol Mazzella it was a way for him to put his Montrose land to good use.
It was close to 25 years ago when Carlo had the idea of growing some Christmas trees and to let people come and purchase them in the lead up to Christmas.
"I don't even remember exactly how the idea popped into my head but I was talking to somebody and said, 'I wouldn't mind trying to grow a few Christmas trees and inviting people to come over'," he said.
"At the time I didn't realise there was already an industry anyway, I just didn't know about it. So I kind of had the original idea except somebody else had already thought of it."
With quite an open space of land on Moore Avenue in Montrose, Carlo said he felt as though he was in a good location for planting the trees.
"We're in an area where we're close enough to suburbia and yet we have open land to be able to do it. So I just thought it would be an ideal thing to start."
Carlo said in his first crop of trees he had planted around 50 just to test out demand.
"It's grown a lot since then. I started very small just to see whether it would work and then when I realised that there was a need, then we got a little bit bigger."
Since then the farm has grown significantly, with four plots growing at any one time, all of different heights to ensure there are trees ready each year.
Slowly but surely, Carlo is stepping away from the Christmas tree business and is handing the reins over to his children Anthony and Steph.
"Steph and I jumped in probably about 10 to 12 years ago. Dad was thinking about stopping and we had the opportunity to take over and so we thought, 'why not, may as well'," Anthony said.
Growing the Christmas trees in Melbourne's weather, Anthony said, is always a challenge, not knowing how the season is going to go.
"Each year has been so different. We don't really stick to a schedule on when we prune and all that because each season is always different.
"It's always hard to gauge. We have a rough idea when they need to be pruned and sometimes you get to a point and you go 'it hasn't been warm enough, we need to wait a little bit more'."
The next crop has just been planted to be ready for sale in four years time.