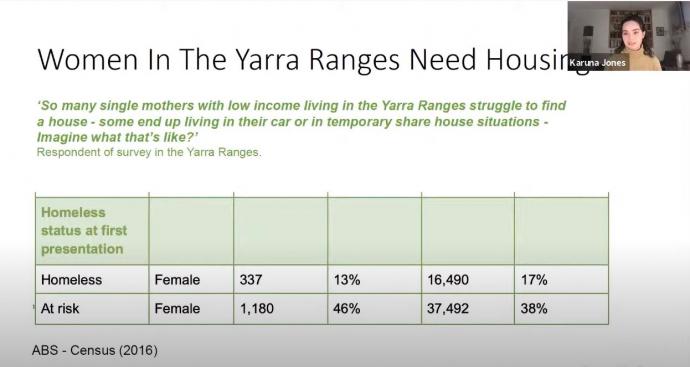 By Renee Wood
A year twelve student has presented a proposal to Yarra Ranges Council at the Tuesday 23 November council meeting to address women's homelessness in the region.
Little Yarra Stiener School student Karuna Jones put forward her senior research project, discussing the growing need for more social housing to support women in need.
Miss Jones' research findings included the community's support for local housing through a survey, the need for social housing for women, at least three sites suitable for social housing in the LGA, examples of good designs and how social housing would align with the council's health and wellbeing strategies.
"I feel really passionate about the needs of housing in our local community, and particularly around homelessness, and specifically women's housing needs. So what I have achieved this year is a report style proposal, looking at how council has a role in creating social housing as a solution to this housing crisis that we're facing," Miss Jones said during the meeting.
Miss Jones discussed how the 2016 census data underestimates the homeless crisis.
"I've spoken to a number of housing providers who have also shared this is more of an issue then it's been documented, and that Covid has had a strong impact. So I'd really like to see action being taken on this."
Referring to a project that was delivered on Moreland City Council land by the Women's Property Initiative.
"I believe that this is a really successful project and it was also for the same demographics of single mothers and women over the age of 55."
Councillors were very pleased with the presentation and supportive of Miss Jones' proposal, saying homelessness is an issue they want to tackle together.
"Our director, Ms Jane Price, would like to have a chat with you as well to see how council can be involved with you and do an appraisal of what you're putting forward," Mayor Jim Child said.
"You should think about running for council at some point, I'm just going to throw that in there, with that type of thinking and your presence in the way that you presented tonight, it was just wonderful," Councillor Fiona McAllister said.
Councillor Tim Heenan also responded saying Councillor Sophie Todorov and himself would like to sit down and further discuss Miss Jones' proposal.
"I'm been very passionate myself over many years of homelessness and in particular, the disadvantages of women that exist, and particularly single mums that have children as well," he said.
Councillor David Eastham said, "It's my first term as a councillor but I'm realising there are a few moments that are very memorable and I think this will be one of them, but I'm very interested to see where this passion and talent takes you."