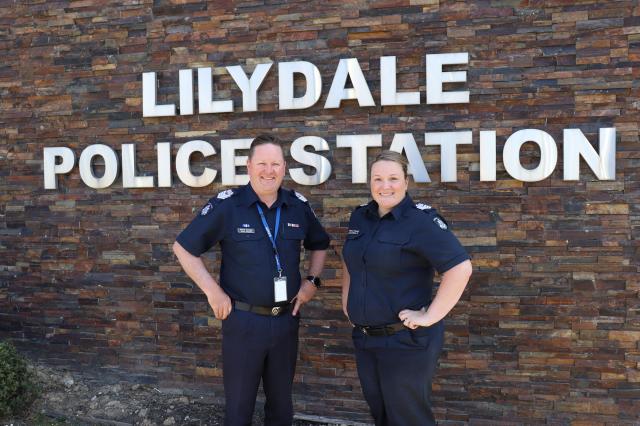 By Mikayla van Loon
As one of 10 police stations in the Yarra Ranges, Mount Evelyn police will have some new counterparts to work with at Lilydale Police Station.
Before the end of 2021, the largest police station in the Yarra Ranges welcomed some significant changes to its staffing roster with two senior sergeants joining the uniform policing branch.
Mel Woods and Mark Knight have moved into managerial roles at the station, taking on the positions of station commander and emergency management coordinator respectively.
Working together as a collective body is part of the new commanders' vision for policing the shire and bringing a community feel back to uniform police after two years of being separated from people.
Although Lilydale is the main 24 hour station in the shire, with two other 24 hour stations being Mooroolbark and Belgrave, as well as seven 16 hour satellite stations including Mount Evelyn, both Sen Sgt Woods and Knight want people to feel as though the whole area is being protected and covered by police.
Having known each other for 32 years from a family connection, the pair are looking forward to working together and putting their own twist on how things are done.
"We're different managers than the other two managers that were here. We're very different in our styles and the way we think," Sen Sgt Knight said.
"That's not to say they haven't run a wonderful place because we've inherited a really good shop, a really great workplace that we just hope to improve and put our spin on."
Originally from the Lilydale area when she went to high school, Sen Sgt Woods found herself working as a detective at Yarra Ranges CIU before heading to Knox Police Station where she held the position of sergeant for over seven years.
Sen Sgt Knight was previously the station commander at Monbulk Police Station before moving up the ranks at the police academy where he taught emergency management.
Now the two new commanders want to place a large focus on reconnecting with the broader community, while also building a strong and healthy workplace for their members.
"I've got a young family. I've got a two year old and a five year old just about to start school," Sen Sgt Woods said.
"So making that connection, raising the kids and having a healthy work life is so important and that's what we pass on to the crew that it is about family and if they're happy here, they're happy at home."
As part of a Victoria Police initiative, sergeants and their crew will be assigned a specific area to patrol as part of a neighbourhood policing centred approach to getting back out into the municipality.
"Our expectations will be that members actually can do foot patrols and speak to local traders. We are an intelligence led policing organisation now and our best intelligence comes from members of the public," Sen Sgt Woods said.
"I really love the idea about getting police back in schools [for talks]. That's one of my big things having come from a small station. You know your principals, you know the students, you know the staff, you have a great working relationship," Sen Sgt Knight said.
"It will all flow in with the neighborhood policing. There's schools within those areas that the sergeants will have, so that'll be a big part of their responsibilities as well."
Part of the foot patrols will be doorknocking in a major event or to check on the welfare of people during a recovery and rehabilitation stage after a storm, fire or other emergency.
Sen Sgt Knight said unlike a small town such as Monbulk or Yarra Glen, Lilydale has a much larger population but his aim is to begin connecting with other services to ensure a tight knit community can be established particularly when responding to emergencies.
But most of all Sen Sgt Woods and Knight would like the community to feel comfortable in reaching out should they need assistance.
"We would encourage the community if you see us out on the road, on foot patrol, on the bikes, say 'hello', have a chat. The members are always up for a chat because it's something different," Sen Sgt Woods said.
"It might be something small like an issue within their street but it could be the missing puzzle piece to something bigger that's going on that we're aware of. So always approach the members and have a chat. We're here to help and support the community.
"If we're not told about something we can't fix it. So the more we know, the better we can become."