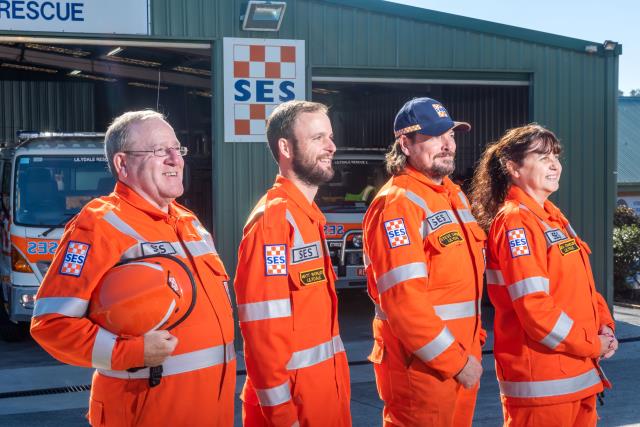 By Mikayla van Loon
While there were many unsung heroes in 2021 who helped keep people safe, fed and connected, it was perhaps the most significant year for local volunteer emergency service personnel as they navigated a pandemic and a one in at least two decade storm.
At times risking their own lives and wellbeing to cut their way into houses, remove trees from roads, putting out powerline fires and working 24/7 to ensure the safety of others as trees continued to fall in the Dandenong Ranges.
Lilydale SES responded to a record amount of calls in just one week, CFA crews banded together to help each other and throughout a pandemic, whenever they were needed, these crew members would show up.
This year we dedicate our People of the Year to all the emergency service volunteers who put in countless hours not only in June but throughout the entire year, whether on the ground or behind the scenes.
Reflecting on the biggest event of the year
No one saw the events of 9 June coming, the prediction of a storm didn't even come close to the experience of thousands of people who live in the Yarra Ranges.
Trees on roads, power outages, damaged homes and cars, thousands of fallen trees, flooding and freezing cold temperatures doesn't begin to describe the nightmare storm that ripped through the Dandenongs in particular.
But as the winds eased, SES crews were just getting started, with Lilydale SES receiving over 1290 calls for assistance in the week after the storm, 900 of those made in the first five hours.
"From a workload perspective it's one of the biggest years we've had in memory. We've got a member who celebrated 47 years of continuous service with our unit and he doesn't recall having a single event that was really on the same scale as the 9 June events," Lilydale SES unit controller Shaun Caulfield said.
"The level of destruction that we saw was on a scale that none of us have seen."
Montrose CFA captain Rob Waters said while most events for the year blur into one, the storm stands out like nothing else.
"The storm event was quite significant for our community and they're still recovering from that. Getting basic services back onto people's houses took months and months to happen. Clearing up around properties and roadways and trees and removals," he said.
"That's quite significant for our community and for them to get back on their feet and navigating that through a pandemic too just added additional pressure to the households and families and communities."
For Mount Evelyn CFA captain Rick Ventrella, he said his community is also still recovering from the storm event.
"We lost or had damaged or severely beyond repair in the vicinity between 12 to 15 homes, and then obviously power lines and communications within the township," he said.
"After the events, the following morning, I did a tour of the surrounding areas and I truly believe there was not one street that wasn't affected in some way."
One of the most harrowing experiences for Lilydale SES members was a rescue of a man trapped under a tree in his house, which took bravery, courage, persistence and skill.
"One of the rescue calls we got on that night in Kalorama where three of our members spent close to an hour cutting their way in to rescue a guy who had a tree fall on his house and he was trapped under his house.
"We don't see conspicuous acts of bravery happen all that often but in this case, I think certainly for the team from Lilydale SES and the team from Emerald SES that went to that job and there were some CFA members who were able to get there because they lived nearby. It is certainly one of the standout moments for me of 2021."
Mr Caulfield said there were other storms and events after June with perhaps 100 jobs, something that in any other year would have been quite significant but now nothing will compare to the response required by SES members in the middle of the year.
"We've had one or two years where we've just tickled over 1000 requests in a year and that's usually with two or three large events. We sit roughly in the seven to 800 requests for assistance every year. We did exactly 1800 for the calendar year of 2021."
On top of the initial storm response, SES volunteers were still helping coordinate the recovery up until a month after the event itself where they helped organise donations to be delivered to residents in the Hills.
The storm event will go down in history as one of the worst and will have lasting effects on those who responded.
A challenging year takes its toll
For first responders like those at the CFA and SES navigating a pandemic for the second year in a row certainly had its challenges.
Lilydale CFA captain Warren Davis said 2021 was extremely challenging for his crew, with restrictions preventing full training sessions, imposing temperature checks before responding to a job and limiting the number of people per truck.
"It was right across the board. It was pretty challenging in this new age that you had to really be careful and very mindful of where you'd been and what you'd done," he said.
But knowing that whenever the crew put on the uniform to help someone, Mr Davis said that is what kept his members connected and strong.
"Knowing that they were being of assistance and knowing that they were helping someone that was having a pretty bad time gave them satisfaction that they were able to help somebody in their time of need. So that's what kept them going."
Chirnside Park CFA captain Ben Cash said although the difficulties of the pandemic carried over from 2020, one thing that he was relieved about was the quiet bushfire year that was had.
"From our point of view, obviously 2021, much like 2020 really was full of challenges. There was lots of stop/start as far as being able to conduct training, being involved with community events and fundraising," he said.
"Then we mix that in with the storm response that we were supporting the SES with and it proved to be a very challenging and dynamic year."
Even though the storms were the most significant event and a testing time for volunteers, crews had still been responding to jobs throughout the year, with Montrose CFA captain Rob Waters saying their response to fire calls was slightly higher than the year prior.
"It was a wide variety of fire calls. Everything from car accidents to rescues and assisting other agencies. We had a couple of grass and scrub fires very early in the piece and a lot of storm damage events throughout the year, so it's been quite a variety of calls that we've attended this year," he said.
Mr Waters said the experiences of 2020 helped prepare his crew for 2021 and he believed he was able to manage the crew a lot better based on that but the year brought with it personal obstacles for members.
"In saying that though, I do believe a lot of people have fatigue and when I say fatigue, their involvement is still very high but you can see that people need some time to recover in their own worlds before volunteering."
Lilydale SES unit controller Shaun Caulfield said it did take a number of weeks for his unit to return to some sort of normal after the storms, on top of the pandemic.
"It's been a challenging time for everyone. And some of our members have been challenged by various aspects of either Covid or restrictions relating to it. It was very difficult for everyone to manage and negotiate," he said.
"We all need to have a good understanding and appreciation and compassion that sometimes [a volunteer's] head space is not always going to be responding to emergencies or doing community events but it's going to be about putting food on their own table or managing their family life or home life," Mr Waters said.
Working together as one
One of the highlights of 2021 and the response to the June storm event was the unified front of emergency services.
"The storms were a real demonstration of the ability for all emergency services to work as one. It's one of the first times where we've rallied behind our partners at SES to support them with a large campaign event," Chirnside Park CFA captain Ben Cash said.
"It's really one of the first times we've actually gone out and really tried to support them with something that they've had going on. SES are very quick to help us out during a fire in doing some of the background stuff but it was actually really nice to return that favor for them."
Lilydale CFA captain Warren Davis said after responding to jobs where fallen powerlines were sparking and having helped on the mountain where they could, CFA members changed their focus.
"We had crews who were assisting the Australian Defence Force in distributing generators. So they were out for about a week distributing generators to homes that had been without power and some of them had been without power for five days or since the storm happened," he said.
For Mount Evelyn CFA captain Rick Ventrella, the community really banded together to provide support to the volunteers and residents who needed a home cooked meal.
"Some of the shops within the community were absolutely fantastic to us, providing meals and coffee where they could," he said.
"They did that out of the generosity of their own heart, I thank them very much for that and just the ongoing support."
Even prior to and after the storms Lilydale SES unit controller Shaun Caulfield said throughout the year his members had responded to a number of jobs to assist Ambulance Victoria (AV).
"We saw a real increase in the amount of jobs where we were assisting Ambulance Victoria with patient extrication in some interesting places, across the Dandenongs along the Warburton Trail and in Mount Evelyn and Silvan," Mr Caulfield said.
Lilydale SES assisted another emergency service at something like 72 jobs over the year, an increase on previous years and had two members who upskilled to assist AV with the Covid response.
Looking forward to in 2022
Now that another year has passed and 2022 offers a little bit more optimism about the future, each of our emergency service crews and units are looking forward to getting back to normal.
Although Rob Waters said his crew at Montrose CFA had regular check-ins with 55 of their fellow active members, he hopes this year they can reconnect in person regularly.
"I just want to be very optimistic about this year and about making sure that we can have some sort of reality back or perspective back in what we actually do. Making sure that we all still stay connected, and we stay together and we're a tight knit group," he said.
Mr Waters said he also hopes the summer bushfire season is a quiet one to give his crew a chance to recoup after a tumultuous year.
Warren Davis echoed Mr Waters' sentiments about the bushfire season but most of all was looking forward to a time when things can be normal again.
"We're hoping that there's no more lockdowns, no more restrictions on members attending the station or training and hoping that all brigades can get back to normality as soon as possible."
Regularity is Ben Cash's hope for 2022 and he's looking forward to the redevelopment of the station which the crew have been working towards.
"We're looking forward to consistency. Looking forward to getting our members back into more regular training. We're looking forward to being back in our community a lot more," Mr Cash said.
"I suppose every day we're hoping for Covid to leave as quickly as it arrived but the reality is, it probably won't," Rick Ventrella said.
"This virus has changed the way. We always know it's there but we do the best we can to keep moving forward."
Mr Ventrella is also looking forward to welcoming a new forward control vehicle to the line up.
For the SES, the focus is a little different, with Shaun Caulfield saying he hopes the number of serious crashes reduces again this year.
"We'd love to see people maintaining their visual and surrounding road safety. Our numbers of serious crashes we attended were down slightly and we'd love that number to be going down every single year," he said.
"As a unit we were looking forward to being able to be back together as a cohesive unit and not have to be training in small groups."