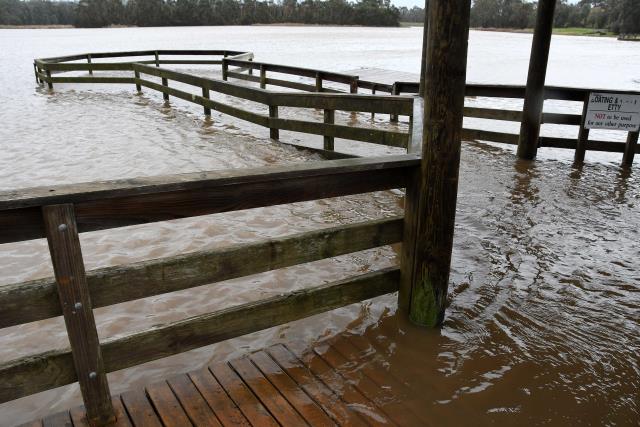 One of the most significant events of the year was the wild and destructive storms that occurred in June, wiping out power and felling thousands of trees across the Yarra Ranges Shire.
As of 10am on Thursday 10 June nearly 4400 calls had been made to the SES across the state, the highest number of calls for assistance in many years.
"We don't often see the whole state being smashed," Lilydale SES unit controller Shaun Caulfield said.
Due to the number of fallen trees and debris, it was taking crews between one and a half to two hours to get to people.
Power outages affected many traffic lights and over 10,000 homes in suburbs including in Mount Evelyn, Croydon, Chirnside Park, Mooroolbark, Lilydale, Ringwood and more.
Lilydale CFA attended a house fire in the early hours of the morning on Friday 11 June.
The blaze was allegedly caused by a burning candle on a bedside table on the second storey of the home.
Lilydale SES received over 1260 callouts in the week following the storm, with 900 of those jobs situated across Mount Dandenong communities.
"I drove around yesterday (13 June) and I was with another member who has been with the SES for over 45 years and I've been here for 30 plus years and we were both just going, neither of us have seen this much destruction, entire streets where every house has a tree on it, with varying degrees of damage but pretty much every house has a tree on it," he said.
"I don't think people are fully aware of the level of impact and destruction that a house with a 15 metre tree that's two metres in diameter falling through it, makes the house just as destroyed and just as uninhabitable as if it has experienced a bushfire."
A month on and crews were still working to clear trees, getting people back into homes where they could and assessing other trees that had the potential to fall.
"As far as work for the SES is concerned it's gone back to business as usual but there's still a lot of people who are displaced from their houses and it's going to take quite some time before a lot of the premises up there are repaired and habitable again," Mr Caulfield said.
Lilydale CFA compiled a list of statistics of affected properties and the numbers speak for themselves: 76 damaged and uninhabitable, 51 damaged but habitable and 41 affected but not structurally.
Yarra View Nursery was also in July trying to repair damage that occurred at its Mount Evelyn property by raising funds.
Infrastructure damage and the clean up is estimated to total $150,000, while the cost of lost trade, production and stock is estimated at $50,000.
"As a not for profit and a charity providing employment opportunities to people with disability, we don't have a lot of cash in the bank to buffer these sorts of things and it is an unusual situation," CEO Scott Buckland said.
The effects of June are still rippling through the community and will go down in history as some of the worst and most widespread damage in at least two decades.