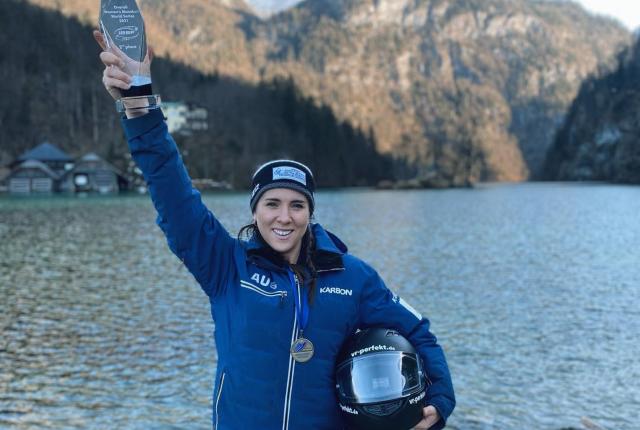 By Mikayla van Loon
Mount Evelyn's Bree Walker fought to be among the best in the world in her first Olympic monobob event but after having a slow start she finished just outside the top three in the medal race.
Bree's monobob campaign started on Sunday 13 February in freezing and snowing conditions, different to what she had experienced in the week of training leading up to the first heat.
"The track was colder today, with harder ice, but I don't think it affected our results. I need to focus on what I need to do in my process," she said after the first day of heats.
Her first run was slower than she would have liked, with a number of wall touches making it difficult to get to those top speeds but she still finished tenth with a time of 1:05.55.
As the debut of women's monobob in the Winter Olympics, all competitors were out to prove but Bree's rivals also fell under the weather conditions, allowing her to jump three spots to seventh in her second heat with a time of 1:05.54.
Heading into day two of heats and the medal deciding runs, Bree was looking to come back fighting.
"I'm not making it easy for myself that's for sure, but I'm a fighter and will keep climbing back up the tally board," Bree said.
"I know I can continue to be consistent and clean up my runs. I was really happy with the second run in general. I need to go and replicate that tomorrow."
Fight she did, moving up from seventh to fifth with two stellar runs on the final day.
Finishing heat three with a time of 3:16.25, Bree was 2.28 seconds behind the leader Kaillee Humphries.
Although she couldn't move up the leaderboard into the top three during her fourth run, the local still made Australian history, scoring the highest ranking ever seen in the bobsleigh.
"I've worked really hard to be here, I'm so proud to be here [for] the first time monobob has been at the Olympics."