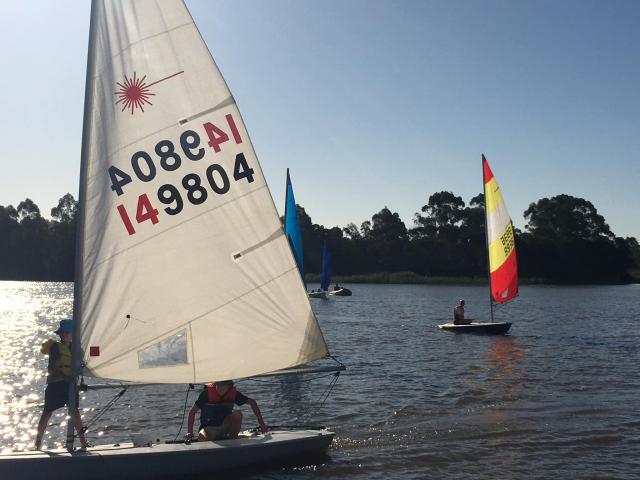 By Mikayla van Loon
The Lilydale Sailing Club has been providing sailing opportunities to the region for over 30 years and was the host of the first disability sailing programs in the state.
But with the impact of Covid-19 on volunteer numbers, president Mick Taylor said the pandemic was a good time for the club to reset and work out what its future looked like in the long term.
With a bit of a restructure and reshuffle of priorities, the club is aiming to expand sustainably and move into opening doors for young people with an interest in sailing from all over the Yarra Ranges.
"When Covid hit in early 2020 we got a bit of a shock because we couldn't operate even though it was our peak operating time and like everyone else, we were shut down," Mr Taylor said.
"We'd already talked about how we should be doing more junior stuff and we should be taking the club in another direction."
Basing its new direction on the history of the club, the Lilydale Sailing Club's motto returned to being 'sailing for everyone' – the original name of the club when it first started.
Wanting to provide better services and equipment, Mr Taylor said a new feature at the club is a membership system.
"We've actually created memberships that we haven't had before. People ask 'why do I have to pay?' Well, I want you to be part of what we do. We want you to have some ownership," he said.
"That's the vision. This is not about any individual. This is about giving the community a centre so that even if you're not a sailor, you can join because then you become part of that whole competitive edge that helps us to push forward."
Building a junior program already, Mr Taylor said he can see the potential for success in some of the young people, who are thriving on having an alternative to other sports.
"Where there's football, cricket, basketball, netball, swimming, whatever sport it could be, sailing is tenth on the list, if not further down," he said.
"We understand that, we're not trying to compete. We're trying to give an alternative. We've got a great junior group and some of those kids are going to go on to world standard. I absolutely believe that."
While the Sailability program will still be an important part of the club, Mr Taylor said having put a lot of effort and resources into it in the past has left members and the committee exhausted.
Taking a step back from the previous Sailability capacity is to ensure the health and wellbeing of the few volunteers who can instruct those sessions.
Junior sailing instructor Steve Beitzel said the benefits of the Sailabilty program are countless, particularly for those who are unable to go swimming anymore because of their condition.
"Being able to do something second best and put them in a boat which is quite low, so their hand can trail in the water, they've got that sense of being on the water again," he said.
Working in disability support services himself, Mr Beitzel understands the importance of programs like Sailability.
"To have the facilities to do that and the opportunity, most of these young people live in a group home, they couldn't exactly store a boat or have a boat of their own but they can come down to the club and go sailing and feel like an equal person in the community."
The bigger picture vision for the Lilydale Sailing Club is to create a watersports hub at Lillydale Lake with a purpose built pavilion and storage facility close to the water for easy access.
"Out of that came the vision that we wanted to try and have an aquatic club at Lillydale Lake such as what's at Albert Park Lake," Mr Taylor said.
"This boat shed here, we're 200 metres off the water, which in itself is problematic. It's a big job to get boats out and get them down to the water.
"We're all volunteers and we're elderly volunteers. That has to change. Part of the vision is if we don't get the community involved in what we do, this club will die."
Although not there yet, Mr Taylor said the club will continue pushing towards the vision to provide a proper sailing experience to all people and a place for the community to learn aquatic sports. The extension to the current shed is a step in the right direction.