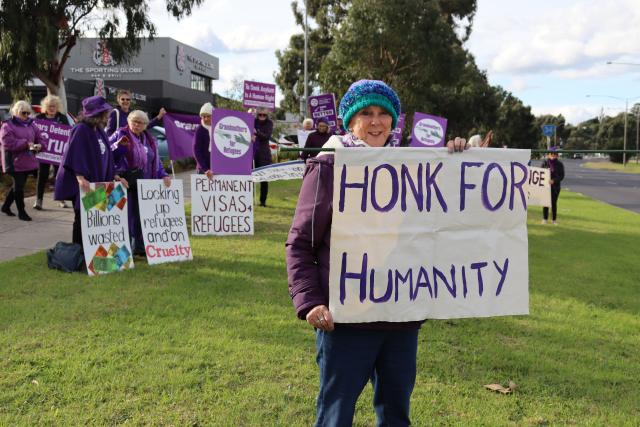 By Mikayla van Loon
The Casey Grandmothers for Refugees were out waving their purple banners and signs calling for a change in government in Chirnside Park today.
Planned as a vigil first gathering outside retiring MP Tony Smith's office and then a public demonstration on the corner of Maroondah Highway and Kimberley Drive, the Grandmothers group were strong in numbers garnering support from some inner city members.
Casey group coordinator Virginia Schnieders said in the lead up to the election on 21 May herself and her members have been calling for larger protections and better respect for refugees.
"We are here today to demand better and demand change for refugees," she said.
"We want better representation in Casey. We want a representative who listens to the voices of all his or her constituents."
Co-chair of the Grandmothers for Refugees executive and a resident in the Cooper electorate suburb of Northcote Margaret Browne said where there are marginal seats, the entire Grandmothers cohort has been focusing their attention on seeing a change in leadership.
"We've developed an election strategy and we have our five clear objectives. We decided that the only way we were going to see progress on those issues was to have a change of government," she said.
"We realised the only way we're going to get a compassionate refugee policy is if the government cares and we don't believe this government cares."
Mobilising what they have called the 'flying squad', the network of Grandmothers from various electorates are targeting eight marginal seats where they feel the most difference can be made.
Ms Schnieders said during their campaigning, the Grandmothers groups are calling for an end to temporary visas, permanent protection for refugees, the closure of detention centres, the speedy processing of 30,000 visa applications of people in the community already and increased humanitarian intake of Afghan and Ukrainian refugees.
"We want a government that provides adequate and enduring support to all people seeking asylum who are living in the community. This support should not be left to non-government organisations," Ms Schnieders said.
Although focusing on the election and hoping for better outcomes from a new government, Ms Browne said they won't stop there.
"If we get a Labor government with independent support, which looks to me a likely option, we will really have a job then to focus on keeping Labor to some of the promises that they made and also trying to influence the Independents."