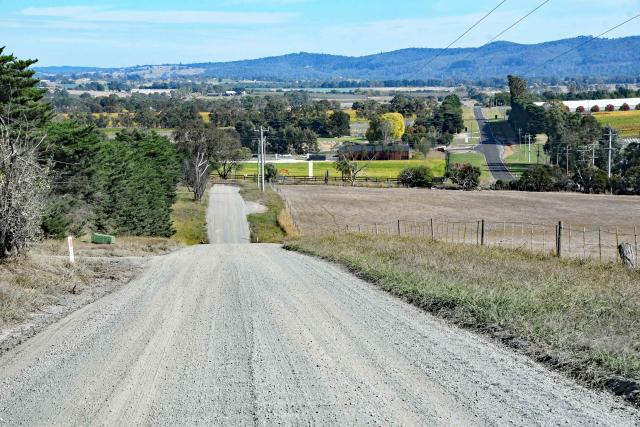 By Parker McKenzie
Most candidates in the Casey electorate have embraced Yarra Ranges Council's call to support their Roads for Agribusiness initiative.
The project calls for $150 million in federal funding to design and construct 150km of sealed roads throughout the shire to support agribusinesses vital to the Yarra Valley.
On Friday 6 May, Liberal candidate Aaron Violi and Infrastructure Minister Paul Fletcher announced $14.8 million in funding for the sealing of roads through the project. It was the first time any candidate or party has pledged to support the project.
Liberal candidate Aaron Violi said he'd already shown his commitment to supporting Yarra Ranges Council's initiative and there won't be any further funding announcements for road sealing.
"I understand how important sealing roads is for Casey. The Liberal party has a great track record of this, sealing 150km for the $150 million Roads for Communities program," he said.
"As a resident of Casey who has family in agriculture, I know how important agriculture is for our residents and businesses."
The Federal Government announced a nine-year, $150 million funding plan to seal roads within the Dandenong Ranges and the surrounding areas in 2019.
Labor candidate Bill Brindle said he would advocate for funding Roads for Agribusiness if elected to represent Casey.
"We've got some good rural industry and this is about putting money into it and making sure that runs more seamlessly, and which keeps prices competitive," he said.
"It's got a lot in its favour. I'm more than happy to have that fight."
On April 11, Shadow Minister for Infrastructure Catherine King told the Star Mail Mr Brindle had given her the details of the project and she would look at it throughout the election contest.
"This area is well and truly on the map. We know that it is an important agricultural region for the State of Victoria, but also for the country," she said.
"You know we'll be looking for investment opportunities to grow regional communities right across the country and this is certainly absolutely one of them. The council has put that project to us."
Ms King was contacted for comment in regards to Mr Violi's promise of funding.
United Australia Party candidate Anthony Bellve said he has had conversations with Yarra Ranges Council regarding advocating for federal funding.
"Upgrading our roads and sealing them for the agribusiness is probably vital," he said.
"If elected, I'm committed to working with the council to get the funding they need to seal all those roads."
Independent candidate Claire Ferres Miles said she would support evidence-based funding decisions which demonstrate the highest public value.
"As an independent, I would be a fierce advocate to the community about what's important to us," she said.
"I'd welcome a discussion about once an election is called whether there should be a moratorium on funding announcements during that period."
Greens candidate Jenny Game said The Greens support community grants and infrastructure commitments, but are committed to good governance and transparency instead of throwing money at marginal seats.
"In the balance of power, the Greens will push the next government to tax billionaires and big corporations to fund a massive expansion of our public and active transport networks," she said.
"The Greens will also end government rorts and pork-barrelling by requiring independent assessment of applications for infrastructure grants, with clear criteria and decision making transparently determined and recorded.
"We'll also put communities at the centre of planning for public infrastructure, by requiring independent evaluation and consultation on major projects over $100 million."
Ms Game said all of the Greens' policies are fully costed by the Parliamentary Budget Office, so while they won't promise individual projects ahead of an election, fully funded plans are available.