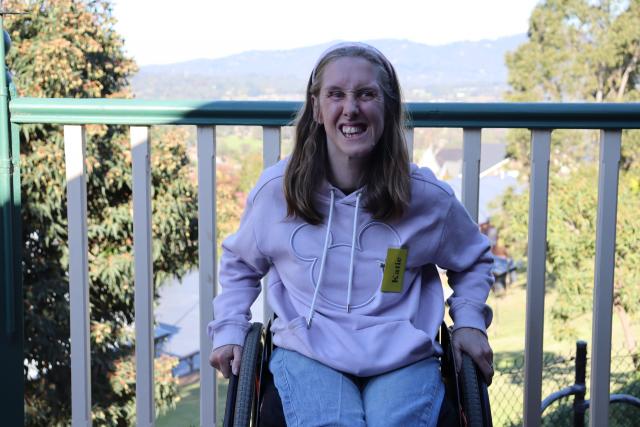 By Mikayla van Loon
After finishing school, Katie Jeffery was looking for something to do with her time and having searched for volunteer opportunities in the local area, she stumbled on Caladenia Dementia Care.
"I love helping people and I love making people smile and I wanted to make a bit of a difference in some small way," she said.
Ten years later, Katie is still volunteering two days a week and making people smile with her own infectious smile and attitude.
Although every day is different when she arrives, Katie helps set up the program activities for the group which can be anything from indoor mini golf to hookie or bocce.
And while the outdoor activities are her favourite, she said what brings her the most joy is just being with people and sharing in conversations.
"It's nice just to sit and have a chat outside on the balcony," she said.
"I've always liked listening to stories…[and] I enjoy that we can have a laugh together and just spend time together."
Making lasting friendships with not only fellow volunteers but with the members who attend the sessions each week, Katie said there is always so much fun and banter to be had.
Confined to a wheelchair because of her cerebral palsy diagnosis, Katie doesn't let that stop her from taking part in all activities and loves being able to dance and sing from her chair.
"Sometimes we do chair dancing. So I sit beside somebody and we just do hand movements and body movements, not standing up because it's a bit tricky," Katie said.
"It doesn't matter. Even if you are in a chair like my situation, everyone's the same and it's just heaps of fun."
Katie said "to be honest, I get more out of it" because it is like being included in what she described as "one big family."
"No one's different. We're all the same. So when I first started volunteering, I just came out of school and I was a bit worried about finding my niche but I think Caladenia is my niche and it's so nice to be able to help.
"It's so rewarding. I get so much more out of it than the members. I always have such a great time. I couldn't imagine doing anything else. They are my favourite days of the week.
"I would just like people to know that volunteering is lots of fun and anyone can do it, anyone can volunteer and they should come and give it a crack if they want to."