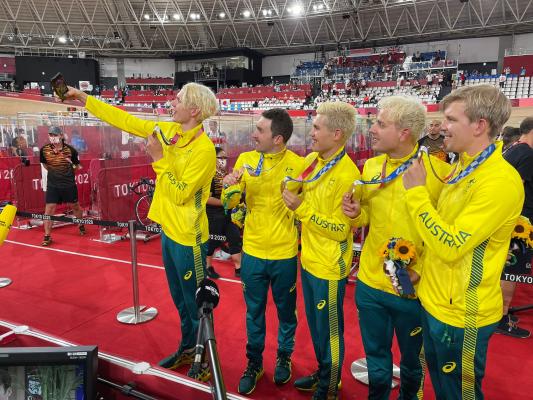 By Mikayla van Loon
Lilydale boy Kelland O'Brien is coming home an Olympic medallist after winning bronze in the men's team pursuit.
Up against our trans-tasman friends from New Zealand, it was a seesawing battle between the two cycling teams.
It was an incredibly tight race with only 0.048 of a second separating them at the halfway mark in favour of the Kiwis.
But not long after, New Zealand rider Aaron Gate crashed into the velodrome, sending the New Zealand team into disarray and saw them fall well behind the Aussies.
"We've raced these boys (New Zealand) quite a lot and we always know it's going to be a dog fight and we were prepared for that," O'Brien told the Australian Olympic Committee.
"It was bouncing back and forth, us boys were here for the fight and I'm bloody proud we fought for the last three days to be here through some pretty tough moments.
"You never want to win a bike race that way, I'm sure these boys feel the same, you could see it in their reaction, but it's a part of bike racing and we got dealt a pretty rough hand on day one.
"It's been a crazy few days and even more hectic five years. We've been through a lot together and we wanted gold, that's what we came for, but in some respects we can hold our heads high."
After a tumultuous start to the Aussie's track cycling campaign, the boys in green and gold were in for a fight and put every bit of heart they had into winning bronze.
In the qualifying round, O'Brien's team mate Alex Porter was thrown from his bike at 65km per hour when the handlebars snapped on the bike he was riding.
Although a bit battered and bruised, Porter returned to the track to help his team set an Olympic Record of three minutes 44.90 seconds against Switzerland, landing them a spot in the bronze medal race against New Zealand.
"This is sport, this is bike racing, it's just the way it goes and even more so at the Olympics it throws curveballs at you that no other competition would and we wouldn't want it any other way," O'Brien said.
Porter could not race in the final and his spot was filled by Lucas Plapp but he still received a bronze medal.
This was the first Olympic Games for O'Brien, Porter, Plapp and Leigh Howard but the second for Sam Welsford who competed in Rio and won silver.