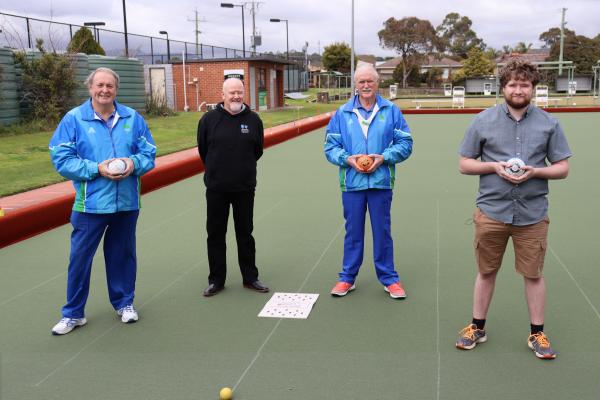 By Mikayla Van Loon
For children and adults with autism, social anxiety can be high and physical activity can be low, that's why Chirnside Park Bowls Club and Different Journeys joined forces to change that.
Having trialled a program for people with autism and their families to come and try lawn bowls earlier in the year, Different Journeys submitted the program to the Heart Foundation's Active Australia Innovation Challenge.
Bowls club member Brian Hillier said he had never heard of Different Journeys until he stumbled upon the name one day but after a phone call with executive officer Mel Spencer, a plan was in motion.
"So one thing led to another and Mel was interested in getting her group from Different Journeys to see if they were interested in playing lawn bowls," Mr Hillier said.
"Back in March, and we had over 50 people from Different Journeys and they came from over the Bayside area and northern suburbs and not just from around here, and we had more than 20 of our members come along on the night and it was just a successful night."
Although two more sessions had been planned for earlier in the year, both had to be cancelled because of Covid-19 restrictions and lockdowns.
"There was still a lot of interest through Different Journeys to bring a lot of people along and with lawn bowls, it's not just the person playing but you know it's a game for all ages. It's a game for all genders, it's a game that the whole family can enjoy together," Mr Hillier said.
Ms Spencer said Different Journeys aims to reduce social isolation and the presence of mental health among the autistic community and this project also targets those who are at risk of physical inactivity.
"Often to go and try new things is really overwhelming and scary because the anxiety kicks in with the autistic community," she said.
"The aim being [for this project], if we base it in a supportive environment, where they can walk in knowing it's going to be someone they know because it's a Different Journeys event, that someone is going to help them and they'll get a little bit of food and a little bit of fun."
Mr Hiller said lawn bowls is the perfect sport for people who want to remain active and social but don't want the intensity of some sports.
"The sport of lawn bowls because it's low impact, non contact but still involves a bit of stretching, exercise walking, lifting and things like that, would appeal to a group of people who are probably more in general a bit sedentary," he said.
Not only is this project about giving people with autism the chance to learn a new skill and break down some of those anxiety barriers but a learning experience for members of the bowls club too.
"Many of [the club's volunteers] either didn't understand anything about autism or identified that they had grandchildren on the spectrum," Ms Spencer said.
"So it was a really nice opportunity to connect different generations because part of our system is to create more awareness, understanding and support for our autisitc community."
With a $10,000 grant received from the Heart Foundation, Different Journeys, Chirnside Park Bowls Club, in collaboration with Chirnside Park Country Club and Interchange Outer East will be running eight monthly Friday night bowls sessions, with the first one starting in September.
The Heart Foundation received 619 entries in this year's challenge from across the country, which is double the number of 2020 entries and almost five times the number submitted for the first challenge in 2018.
There were 19 winners across Australia this year and five were from Victoria, including Different Journeys.
"The initiative has been growing in popularity year-on-year, but even we were surprised by the huge number of entries received for this year's challenge," said Heart Foundation Victorian Heart Health Manager, Adam Stormont.
"The Heart Foundation could not be more pleased by the increased participation, given around two-thirds of people in Victoria are not active enough for good heart health. This is a real concern, because being inactive is a risk factor for heart disease, our state's single leading cause of death.
"One reason for the spike in entries could be that the pandemic has sparked interest in physical activity at a grass-roots level. Being stuck at home for long periods is making everyone appreciate their communities more and think creatively about ways to stay healthy and active."
While for Ms Spencer, the physical activity side is an important part of the program, she said allowing the autistic community and their carers, parents and friends to connect with each other is just as important.
"[It's] not feeling so alone, learning about what other supports and opportunities are available and wouldn't it be great eventually if someone decided to join the bowls club because they felt really safe and supported there."
To find out more about Different Journeys and the lawn bowls program call 0490 774 068 or email differentjourneys@gmail.com.