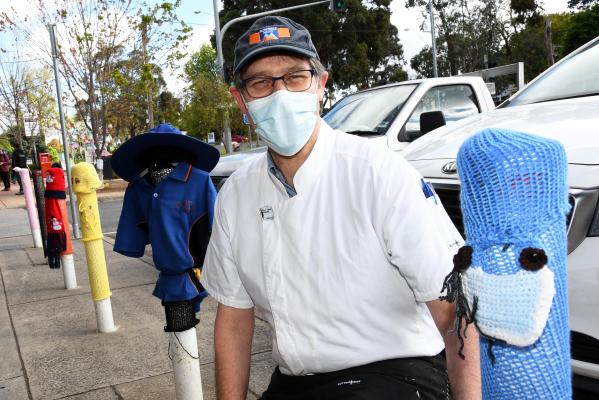 By Mikayla van Loon
For what appears to be quite a small town, Montrose always has something happening to bring the community together and bring some joy to people's lives.
The most recent has been the phenomenon known as yarn bombing, a type of street art that covers poles, trees, bollards and bench seats in knitted objects.
Montrose Township Group president Chelsey Cooper said the idea of yarn bombing Montrose came from a new member of the group who had seen it happen elsewhere.
After contacting a person they knew who was a passionate knitter, more and more people came out of the woodwork, leaving their knitted creations around town.
"We put a call out and just got a massive influx of people that enthusiastically said yes," Ms Cooper said.
"We don't know everyone because it was a bit of a secret who participated but the oldest person we knew was 88 years old, who did quite a bit. The youngest was 10 and we know we had both men and women contribute to the yarn bomb."
Traditionally yarn bombing is a secret movement that just appears but Montrose Township Group actually took responsibility for it and approached Yarra Ranges Council for approval.
"They were really supportive and did all they could to get it through really quickly but that was also an agreement that we had it up for a certain amount of time," Ms Cooper said.
"So what's been created will be up for a month but I've already heard people say, 'well, you know, I'm going to make some ghosts for halloween and hang them in the tree' so who knows what will come from it.
"But I think it might have inspired a few more people to contribute these little gifts that surprise and delight us."
For local resident and Montrose Meats business owner Rob Earney, seeing how the township group has been engaging people in the community, not only during Covid but even prior to that, is what makes Montrose Montrose.
"I'm a long term Montrose resident and in my eyes, it's tradition, Montrose has always had that sense of community and that sense of togetherness," he said.
"Montrose is geographically interesting, in that we're our own little igloo and it's easy for people to bypass or even not come to Montrose, unless they're particularly coming here. So what they do is they're involving the community, so they stay as a community."
Mr Earney said the yarn bombing has brought eyes from outside the township to Montrose and has really created a sense of happiness.
"As a community member, it's started the talk and people are talking about it and are quite excited about it and it's given a new bit of colour to the township."
Apart from the yarn bombing, one of Mr Earney's favourite projects from the township group was a barbeque they hosted in the street at the end of one of the lockdowns last year.
"They did a free sausage sizzle for people that would walk along the street so that they could stop and talk and engage.That's the sort of thing that holds the community together," he said.
Mr Earney said the effort the township group puts into keeping people connected is admirable and he is grateful for the work they do.
Ms Cooper said each of the projects the township group has done fits into the community vision they decided on last year.
"Our vision really was that we wanted to create a community where the people cared about and supported each other, our place and the natural environment," she said.
"In Covid it's obviously been hard for us to get together to connect but it's also meant we've been really creative about ways we can do that and make that vision come to life.
"What we noticed was those little moments where you can be surprised and delighted and they bring real joy and it helps us feel proud to be in a community that wants to be generous with each other."