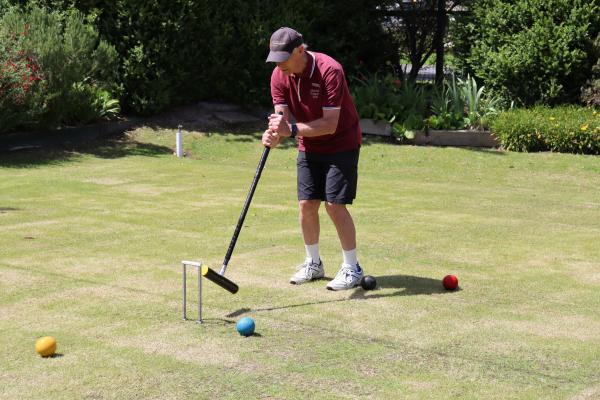 By Mikayla van Loon
The Yarra Ranges' only croquet club has returned to regular play for the first time in months.
After missing the spring tournament because of the lockdowns, Lilydale's Croquet Club players and members were eager to return to playing as soon as they could.
Heading back onto the green for the first day of play on Tuesday 16 November, only some very keen players battled the rain and the cold but more members took to the court on Wednesday, with the sun shining and conditions much better for social croquet.
Club president John Thomson said the last time they were able to play at the courts was just before lockdown number six.
"That was the last time we got together so it's a long time ago. We had a committee meeting just after the lockdown finished but this is the first week we've played," he said.
"It's been a long time, a couple of months or something but we're back. We're here. So that's good."
Although the return to playing was delayed slightly because of resurfacing repairs to the main court at Melba Park, Mr Thomson said they couldn't hold off any longer.
"We had to try and get the grass repaired because you can only play when the grass is growing, which is a difficult thing because you can't do it in the middle of winter but that would have been ideal," he said.
"So we had to do it at the beginning of spring and then it needs time to come back. It's slow growing again because of the weather, it hasn't had the heat. So that's been difficult.
"Hopefully in another couple of weeks, it'll be a lot better than what it is now but we had to get back to playing because people were just too anxious."
While some croquet club members play competitively, most just play socially with friends and Mr Thomson said his favourite part of being back is seeing everyone.
"You can text one another and email and all that all you like but to get back together and a couple of them have been away at different times and that sort of thing," he said.
"So just to all get back together again and get the members coming back and enjoying it, that's a big part of it, is the fellowship in the club and it's a big part of why we do it, why we come down, especially some of our elders, to get them down here and playing and and mixing with other people is good."
The Croquet Club is looking ahead to 2022 and the autumn tournament, which will be the first competition in a whole year.
In the lead up to that, Mr Thomson said some minor works will get underway to expand the court and improve the playing surface in Lilydale.
"We're going to extend this court here and level it off so we've got a little bit more room and it's a bit more level on the sides and the edges. We got a 50/50 grant from the Shire to do that and it will happen after New Year, I think we'll get started on that, so that'll be good."
With future plans of adding another playing court, Mr Thomson said it is still something they are working towards.
"Hopefully there'll be one going out there but that's a long way off. So we try to make the most of what we've got here and do what we can here," he said.
Back to playing regularly on Tuesdays, Wednesdays, Thursdays and Saturdays from 9.30am, Mr Thomson said although they aren't actively seeking more members, newcomers are always welcome.
"We can't get too many more but by the time they go through coaching with our coach Patrick and then when he's got them ready, they'll join if they want and come down and start to play regularly.
"We're always on the lookout for new members because people come and go, so you've always got to have people coming back into the club."