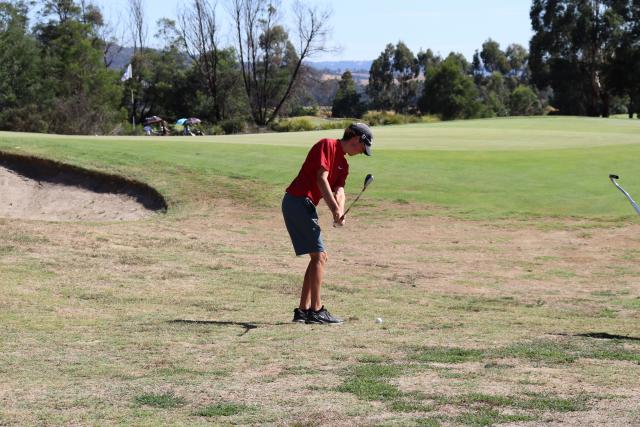 By Mikayla van Loon
Some very talented junior golfers have amazed spectators and event organisers at the Victorian Junior Amateur golf tournament this week.
Golf Australia event organiser Lachlan Scott said day one at Gardiners Run was an impressive start to the tournament even with extremely hot temperatures.
"We had some unreal scores yesterday (Monday 24 January). The best girl was 11 under and we had two guys that were seven under par. So they did really well at Gardiners Run," he said.
Being a more challenging course at Yering Meadows, Mr Scott said he was interested to see how the players handled the penalty areas.
"The girl's leader, she's definitely one of our strongest players so I'd be surprised if she wasn't in a good spot after today.
"The boy's there's actually a lot around the mark with seven or eight within a couple shots. So I think today (Tuesday 25 January) will determine a lot as to where everyone is."
After day two, the players will be seeded and ranked accordingly, indicating who they will play against when play resumes on Thursday 27 January at Eastern Golf Club.
Mr Scott said Golf Australia chose this area because of the close proximity of all the courses.
"We saw that as a good opportunity given we wouldn't put too much of a burden on either course and we could spread it out across the four days," he said.
"It's also an area where we haven't typically held too many events at all, not in my time in the last few years. So it's exciting to come out to this region and bring some of the best junior golfers that we've got out here."
Volunteers at each of the golf clubs have been helping facilitate the tournament's success and ensuring things run smoothly.
"All the clubs have been fantastic. I think they're struggling a bit in terms of staffing at the moment with Covid. So they've really gone the extra mile to welcome us and make sure it's a good event," Mr Scott said.
As at 4pm on Tuesday 25 January, Jeneath Wong from the Metropolitan Golf Club was holding the top spot with 14 shots under par, Molly McLean from The National Golf Club and Haruhi Nakatani from Surfers Paradise were tied on seven under par, with Amy Hodgkins from Royal Queensland coming in fourth with four under par.
In the boys competition, Michael Song from the Metropolitan Golf Club was first with seven under par, followed by Bailey Goodall from Shepparton, Hunter Gillard from Royal Hobart and Rupert Toomey from Huntingdale who were tied for second place with five under par.
Mr Scott said the winner in both the boys and girls will each be awarded with a place in the Vic Open professional golf tournament.
With some wild weather forecast for the final day on Friday, Mr Scott said at this stage play will continue but it may be moved forward to allow the golfers to have the best chance of a full round.