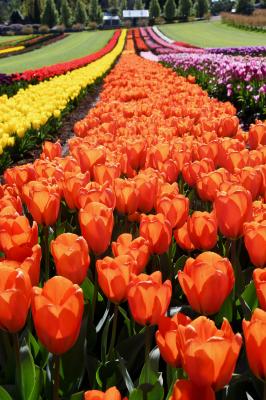 By Mikayla van Loon
The Tesselaar Tulip Festival has been a feature of springtime in the hills for over 60 years and draws people from all over Melbourne.
Unfortunately for the second time in the festival's history, the four week event had to be cancelled.
Festival director and grandson of the original Tesselaar tulip growers Paul Tesselaar said it would have been the festival's sixty eighth year running.
Although the tulip festival was cancelled last year due to Covid-19, Mr Tesselaar said having to cancel this year was even more disappointing.
"So this year, we did some modeling and felt that we would be okay to get through and open up for people to come and visit. So we put a lot of effort into the layout, did a lot of ongoing repairs and maintenance to ensure that everything was up to speed and looking great," he said.
"Then once we had our lockdown number six, we realised that this delta variant was going to interrupt the festival this year. So it was really disappointing because the entire team has put massive effort into ensuring that the show this year was going to look spectacular."
Tulips need to be planted each year for the bulbs to go through their life cycle and improve the quality of flowering year on year, so Mr Tesselaar said there was no option but to plant the tulips in May and hope for the best.
The Tesselaar team also put in a great amount of effort to restore three of the replica windmills, plant more blossom trees and grow greener grass to help contrast the colour of the tulips.
But Mr Tesselaar said the flow-on-effect of the festival not going ahead is even more devastating.
The festival usually brings together food vendors, market stalls and performers, as well as 120,000 people.
"I feel so much for all those small businesses that are suffering as a result of not being able to generate an income at all over the last two years from doing their food stalls at festivals.
"When I speak to local businesses down the road because there's just not been that 120,000 people that would be coming through the hills to buy petrol or buy a coffee on the way or buy a fresh bunch of flowers from the roadside stalls, it just flows on and on and on."
Still wanting to share the blossoming beauty and delight of the tulips, Mr Tesselaar said they have been posting regularly to social media to keep smiles on faces but he cannot wait to have people back next year for KaBloom in March.
"It really is about sharing that love of the colour and the entertainment and giving people the ability, especially this time around to escape Melbourne and to enjoy each other's company out in nature, together with their families, wandering the fields and just enjoying the sun on their back and seeing the smiles on their faces as they wander around the field of flowers."