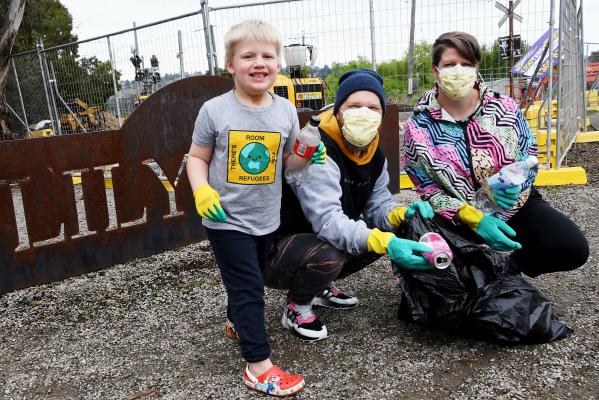 By Mikayla van Loon
Changing people's littering habits is not an easy task but that hasn't stopped Lilydale's Emma Featherstone from giving it a go.
Noticing more and more rubbish ending up in the car park on Creek Road near the Warburton Rail Trail and in sections of Olinda Creek, Ms Featherstone and her family have taken it upon themselves to pick up rubbish regularly.
Ms Featherstone said rubbish has always been an issue along this part of the trail but since construction started on the Level Crossing Removal Project, she has definitely seen an increase in the amount of rubbish being left around.
"There's often a lot of rubbish anyway with people dropping their masks and coffee cups and stuff," she said.
"So one day my husband and I set up and went out there with gloves on and with some garbage bags and started picking up all the rubbish from around there and it ended up being like two bags of rubbish.
"We've just made it part of our weekly thing. My husband and I and our six year old son, we go out there and just spend a couple of hours on a nice day picking up the rubbish along the Olinda Creek."
While construction has been halted at the level crossing, less rubbish seems to be floating from the site onto the rail trail and into the car park.
"There definitely hasn't been as much around the car park so things haven't been blowing from their site over into the car park. There is still a little bit and there's still a lot along the creek from people just throwing things or just leaving them if they've drinking by the creek or whatever," Ms Featherstone said.
"It's horrible because at the moment there are families of ducks with their ducklings down there and there's so much bird life down there and obviously it's a massive threat to it."
But even without the construction workers, Ms Featherstone said herself, her husband and her son picked up a full bag of rubbish on the grand final public holiday.
"It was good though because it was a nice day and so many people were riding past and they're like, 'you guys are doing a great job, thank you'.
"I feel like that's obviously rewarding in a way but it's also kind of showing people that you can get out there and do it and also it's encouraging people not to litter.
"I feel like if they see us picking it up they're like, 'oh it's actually not council staff or garbos picking it up, it's just these folks who live in the area'. So maybe it'll discourage people from just leaving their litter everywhere."
Ms Featherstone understands the rail trail is used frequently for exercise by people not from the immediate area who may not have the same attachment to keeping it clean but she said that's no excuse for leaving rubbish behind.
"People that might not actually live in this area don't take that ownership of like 'I've got to look after this area'," she said.
"So maybe the more people that actually get out and help or that see us going out and helping, it will bring more awareness around just keeping the area and all the flora and fauna free of litter.
"It's such a beautiful area and it does become a massive threat to the local environment."
Having left a note for construction staff and after emailing the Level Crossing Removal Authority, as well as Yarra Ranges Council, Ms Featherstone has been reassured steps will be taken to help reduce the amount of waste left lying around when workers are back onsite.