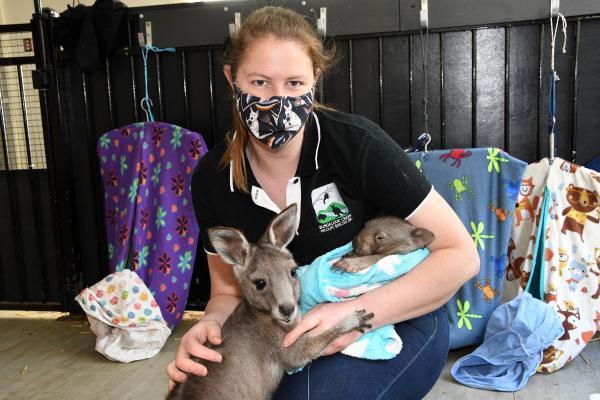 By Mikayla van Loon
Spring doesn't only tease us about the summer season that's coming, it is also a time when life renews itself and that means breeding season for many animals.
Emma Cash, owner and operator of the Bungalook Creek Wildlife Shelter in Mount Evelyn, knows just how important it is to be careful on the roads and in parkland when more animals are out and about.
For the year ending in June, Ms Cash had rescued 204 animals and although she thought during the pandemic her shelter would be less needed, it has actually grown.
"We thought with Covid with less traffic on the road, we would see a reduction in animals that would potentially come into care but realistically it's probably increased by a good 10 or 20 per cent," Ms Cash said.
"We're getting orphans coming in when we would never usually get them coming in from areas that we've never really seen them coming in from.
"And that's because people are out, a lot of people are walking their dogs in parks where they're not allowed to, so animals that aren't usually disturbed are now getting harassed on a daily basis by people."
Ms Cash said eight years ago her busy season was predictable and ran from August to March but in recent years it has changed to all year round.
"In the last five or six years, I've spoken to a couple of other shelters and we don't get a break anymore, it doesn't stop."
With spring being the breeding season, that is when the community will notice more animals out and about.
"We've got animals maybe across roads a lot more potentially looking for lakes or going to greener pastures to graze because they've got offspring that they're obviously caring for as well.
"So we are finding that we're getting a lot more hit by cars because they're not moving as quickly or they're out when people don't necessarily expect them to be."
Ms Cash said it is really important for people to stop if they have hit an animal or drive past an animal that has been hit because there is a good chance there will be young in its pouch.
"If you drive past an animal, stop and check it, you could be saving its life or if you're not saving its life, you could be saving the life of its joey or nestling."
But in any situation it is best to call one of the local wildlife shelters or vets that are trained in handling and caring for injured animals, so they can be rehabilitated and released into the bush again.
Ms Cash said it is also important to do what you can at home by keeping domestic cats inside, making properties more wildlife friendly by planting the right plants and building the safest fence for wildlife to potentially jump over.
For the most part wildlife shelters don't get government funding and are usually not eligible for grants, it is completely volunteer driven and based on donations.
"My day starts at 5am in the morning and generally finishes at 1am," Ms Cash said.
"Most of us are trying to hold down full time jobs at the same time to pay for the wildlife that we have here. So just a little bit of practicality knowing that we will get you we just may not get to you straight away."
Aside from the reactive strategies, Ms Cash said it is also about cohabiting with our native wildlife that will save their lives.
"We live in such a unique environment that is changing the climate. Bushfires are more extreme, we've lost billions of animals through that 2019-20 summer season.
"So realising what you have in your backyard that's native is just so unique to Australia and take a step back and realise what we have.
"We can step outside the door and hear the sounds of birds. In a lot of countries around the world, you'd never get that experience. We choose to live in the bush, we need to respect the bush."
Find a list of local wildlife shelters here https://www.wildlife.vic.gov.au/injured-native-wildlife/help-for-injured-wildlife or contact Wildlife Rescuers here https://wildliferescuers.org.au/
Bungalook Creek Wildlife Shelter can be found https://www.facebook.com/bungalookcreekwildlifeshelter or by calling 0405 057 220.