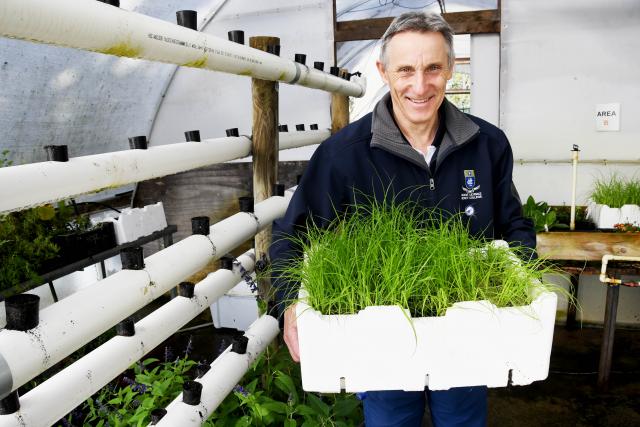 By Mikayla van Loon
Sustainability and environment focused studies are a big part of the curriculum at Mount Lilydale Mercy College (MLMC) and now that is being recognised by Sustainability Victoria.
The college has been nominated as a finalist for the ResourceSmart Schools Awards in two categories, being the Community Leadership School of the Year and Curriculum Leadership School of the Year.
MLMC's VET/RTO leader and sustainability leader Andrew Feher said working environment protection and management into the broader curriculum has been a challenge over the years but the recognition that it is working allows the school to know they are on the right path.
"It's something that I do anyway, I would do it regardless of recognition," he said.
"But if we can now piggyback off that success, whatever success we get out of it, then the students can be applauded for their efforts and once you get a bit of success it will suddenly create a magnet for others and they might join in the program."
Sustainability Victoria's community action director Katie Pahlow said when students engage in positive sustainability actions it gives them agency over their contribution to the world.
"Helping young people focus on what they can influence now for their future is more important than ever," she said.
At a basic level, students in Year 7 learn about the importance of sorting waste into recyclables and rubbish, with different bins placed around the school, as well as a composting facility that then replenishes garden beds to grow fresh produce.
From there, sustainability is featured in nearly every subject from humanities to religious education and of course science.
When it gets to the victorian certificate of applied learning (VCAL) years, Mr Feher said students learn about the larger impacts not only in the region but further along the line.
"We show them erosion control because a lot of these kids come from farms where that's been a big impact in this area.
"We've got the Yarra River, which is a focal point for our humanities and geography students. So we show them the impacts of erosion and then the impact of pesticides and fertilisers on various critters that go into the rivers and then…what happens upstream impacts what happens in Port Phillip Bay so the fish pulled out they've got fertiliser, plastics, and all sorts of nasties in them.
"So we're obviously trying to educate students and at the same time, hopefully their parents who are farmers to get them to at least change their thinking."
Working with community partners like Yarra Ranges Council, Melbourne Water and BlazeAid, students have helped plant trees, keep rivers clean and rebuilt fences after natural disasters.
For at least 25 years, students have also been propagating and planting trees in the school grounds and in the community, with one of the early projects being at Lillydale Lake.
Although sustainability has been a focus for MLMC for all those years, Mr Feher only took on the role as sustainability leader three years ago.
Integrating sustainability into each area of the school, Mr Feher said it is important to work with the student prefects on projects where they can design posters for programs like the 1000 Trees planting initiative or organise climate change debates.
Mr Feher said MLMC is one of the schools leading the change in becoming a sustainably functioning school by helping others begin the transition, which could see them achieve a five star rating by Sustainability Victoria.
"So we're going to be a ResourceSmart School hopefully by the end of the year but I think the next step is going that zero carbon, neutral carbon route which is a big undertaking. If the will is there I'm sure we can push that way. So it's a never ending job but it's just a passion."
Winners will be announced on Thursday 2 June at an event held at the MCG. For more information visit www.sustainability.vic.gov.au/rss-awards